Batak Reaction Wall
Interactive, Engaging, Brandable
BATAK
Reaction wall games are accessible and enjoyable for everyone, irrespective of age, gender, skill or physical fitness...they`re walls without barriers!
The Batak machine provides a test of speed, agility and peripheral vision.
With its smart stainless steel design and small footprint, Batak is a great corporate entertainment option for conferences and events.
The system takes just 20 mins to set up, and requires a small space of 2m by 2m.
Batak has multiple gameplay modes, but most popular is the 30 second challenge...strike as many targets as you can in 30 seconds, it`s fast and furious fun! Run competitions, or simply drive engagement and broad participation at your event.
Branding options are available and can be customised on request.
Use SportSim`s Batak at your next event if you want to:
Create an interactive point of difference
Incorporate healthy competition to align with your brand values
Draw crowds and create memorable moments for your audience
Contact SportSim today for availability and pricing!
Reaction Walls
Interactive, Engaging, Brandable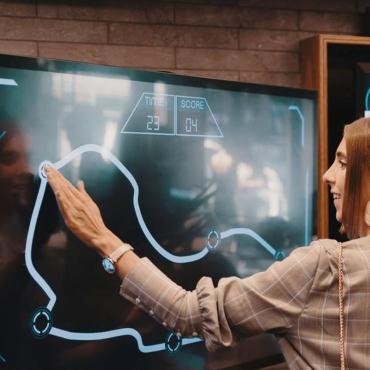 SportSim React
SPORTSIM REACT - Utilising the latest touchscreen technology, fully customisable, in-built data capture and leaderboard featu...
SportSim React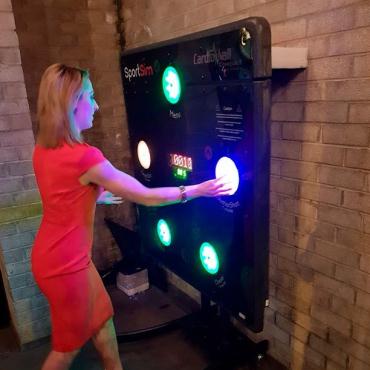 CardioWall
CARDIOWALL - High intensity, competitive fun for all ages and abilities with bespoke branding options.Reaction wall game...
CardioWall
A Few Words from
Our Happy Customers
Engagement with the simulator was huge – everyone wanted a go. I was impressed with how it could fit in to the space and that we could incorporate our brand messaging on the screen. Paul, Foxtel
The simulator was exactly what we needed and worked a real treat! David, Closer Communications
Thank you so much for all of your support at our Kick Start Sales and Property Management Conference. It was fantastic having you there and adds an engaging element to the tradeshow. Amanda, Barry Plant