A new event strategy for Event Managers
SportSim News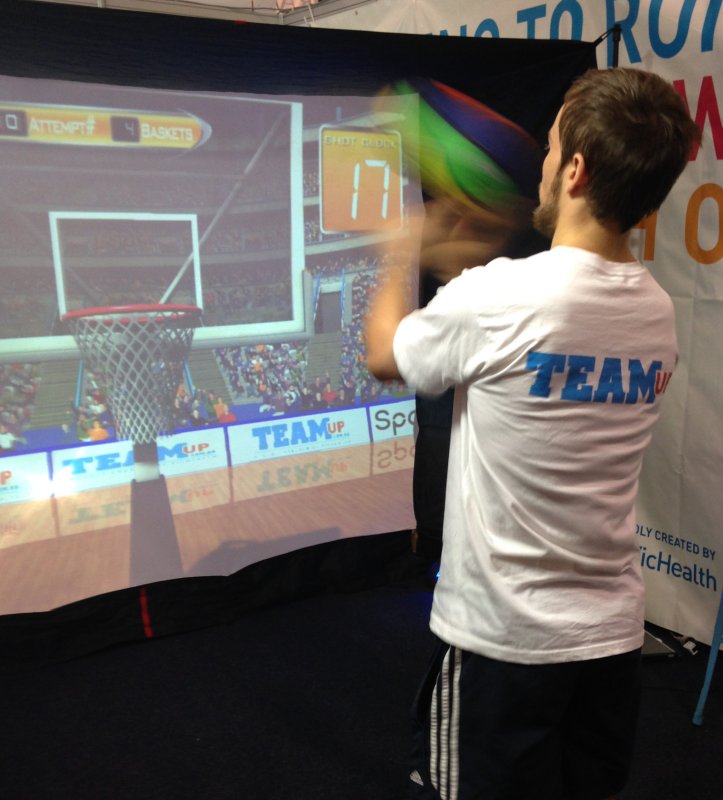 Picture this… a client comes to you in the lead up to the largest fitness event in the southern hemisphere. They want an event strategy that will differentiate their exhibit from the hundreds of others on display and draw the attention away from international fitness icons such as Michelle Bridges and Les Mills. What do you do?
The Launch Box were asked this question by Vic Health. Vic Health were wanting to promote their new TeamUp application, looking to get more people involved in sport participation. The event was the Australian Fitness & Health Expo, held in Melbourne during April 2014.
In a standard 6m x 3m space, The Launch Box decided that SportSim's multi-sport simulator was the ideal way to get exhibition goers engaged in the TeamUp brand and product. They were right! The simulator drew droves of enthused onlookers and participants. The crowds were enjoying themselves, sticking around to find out all about the client's product, and leaving with a positive connection to the client's brand.
The solution was so simple to implement. SportSim did all the work setting up, running the simulator, and making sure everyone was having a good time. The masses enjoyed a huge variety of games – soccer, basketball, baseball and more!
If you're looking for an innovative strategy for event day, consider all the benefits that a SportSIm multi-sport simulator will bring for you or your client.
"SportSim was a unique and engaging way for our client to interact with the health and fitness community at a large scale event. SportSim provided all the support and technical assistance we needed and ensured that the event ran smoothly."
Tanya Warrington – The Launch Box
Latest News
Keep up to date with SportSim
A Few Words from
Our Happy Customers
Engagement with the simulator was huge – everyone wanted a go. I was impressed with how it could fit in to the space and that we could incorporate our brand messaging on the screen. Paul, Foxtel
The simulator was exactly what we needed and worked a real treat! David, Closer Communications
Thank you so much for all of your support at our Kick Start Sales and Property Management Conference. It was fantastic having you there and adds an engaging element to the tradeshow. Amanda, Barry Plant