Awards Night with Foxtel
SportSim News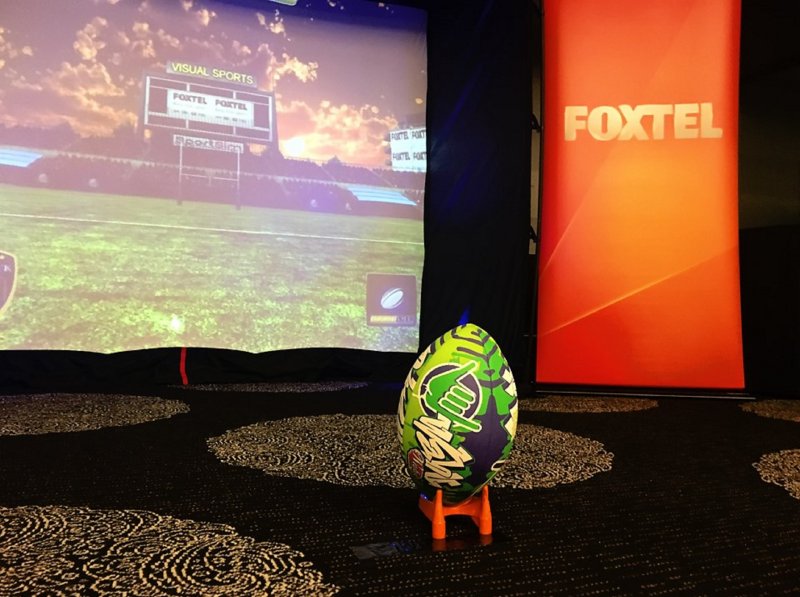 "We used the SportSim (rugby) kicking simulator at the Telstra Retail Awards and it was brilliant!"
"Engagement with the simulator was huge – everyone wanted a go. I was impressed with how it could fit in to the space and that we could incorporate our brand messaging on the screen. Easy and quick set up – highly portable and reasonably priced too!" Paul, Foxtel
The Telstra Retail Awards celebrate business excellence each year, and this year, the Menzies Hotel played host to the Awards ceremony in Sydney.
As part of the event's engagement strategy, Foxtel invited SportSim to support them, wanting a portable fly-in, fly-out solution that would provide interactive entertainment for guests, either side of the Awards formalities.
With high-profile NRL stars in attendance, it was decided that the SportSim Rugby Simulator was 'fit for purpose'. With cocktails balanced precariously in one hand, event guests stepped up to try their luck at slotting a conversion in the virtual stadium. With a few beverages to take the nerves away, and cheered on by a (mostly) supportive crowd, guests enjoyed testing their rugby kicking skills against the clock.
With Foxtel imagery added to the in-game signage, the evening's confident kickers associated their interactive (and most importantly…fun!) experience with the Foxtel brand…many walking away with chests puffed out after scoring the winning points in their own personal 'grand final'.
The flexibility of the sport simulator, and small footprint required, means SportSim can set-up in a variety of indoor spaces, wherever your event is located, and whatever the brief. As the siren sounded for the end of a successful evening, and the final kicker put her boots (well…high heels actually) to bed, the SportSim rugby simulator was packed down in just 30 mins.
Contact us today to talk through your event brief, and we'll help you to leverage the 'crowd pull' of interactive sport experiences to engage and excite your audience.
Latest News
Keep up to date with SportSim
A Few Words from
Our Happy Customers
Engagement with the simulator was huge – everyone wanted a go. I was impressed with how it could fit in to the space and that we could incorporate our brand messaging on the screen. Paul, Foxtel
The simulator was exactly what we needed and worked a real treat! David, Closer Communications
Thank you so much for all of your support at our Kick Start Sales and Property Management Conference. It was fantastic having you there and adds an engaging element to the tradeshow. Amanda, Barry Plant