Barry Plant Kick Start Conference
SportSim News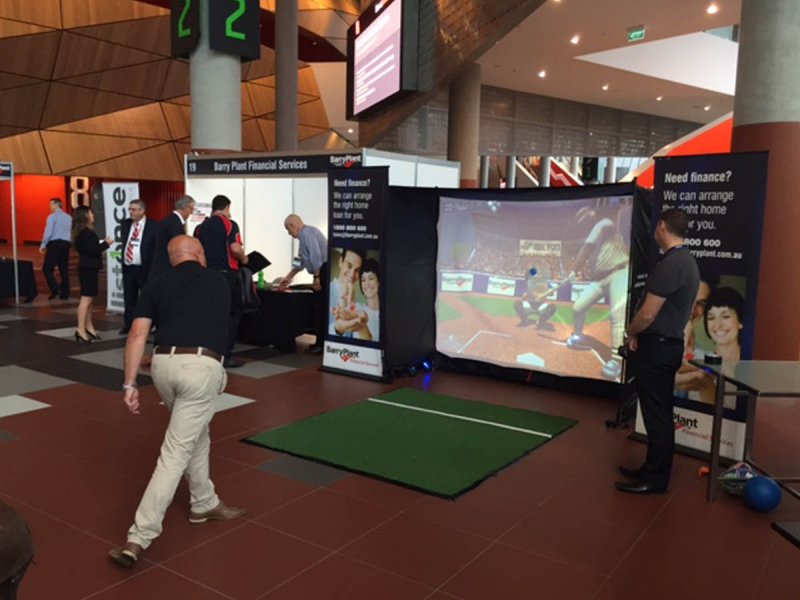 SportSim teamed up with Barry Plant recently for the 'Barry Plant Kick Start Sales and Property Management Conference' at the Melbourne Exhibition Centre.
This is the first event of the Barry Plant year, and all sales people and property managers are encouraged to attend for some motivational messaging to make 2016 the best ever. Following a full day of seminars, including high profile guest speakers, everyone gets together for a slap up dinner and evening entertainment.
With only a small footprint required, nestled amongst the varied exhibitors during the day, the SportSim sport simulator was a great meeting hub for patrons and staff alike…it's a magnet for the curious and young-at-heart as people can't resist a kick, a throw…or simply observing the action.
Conferences and exhibitions usually have intense agendas as organisers try to take full advantage of their captive audience, and cram in as much value as possible. It's important that there is also opportunity to come up for air….something that's a pressure release valve so that patrons can take a breather, then re-focus and get energised for the remainder of the day. The SportSim sport simulator meets this need perfectly.
"Thank you so much for all of your support at our Kick Start Sales and Property Management Conference. It was fantastic having you there and adds an engaging element to the tradeshow. Thanks again and look forward to working with you in the future" Amanda – Events Manager – Barry Plant
If you're interested in learning more or hiring a SportSim sport simulator for your next conference or exhibition, get in touch today. Don't have space for the sport simulator? Ask us about our new Batak machine.
Latest News
Keep up to date with SportSim
A Few Words from
Our Happy Customers
Engagement with the simulator was huge – everyone wanted a go. I was impressed with how it could fit in to the space and that we could incorporate our brand messaging on the screen. Paul, Foxtel
The simulator was exactly what we needed and worked a real treat! David, Closer Communications
Thank you so much for all of your support at our Kick Start Sales and Property Management Conference. It was fantastic having you there and adds an engaging element to the tradeshow. Amanda, Barry Plant