Basketball function with ESPN & The Ivy
SportSim News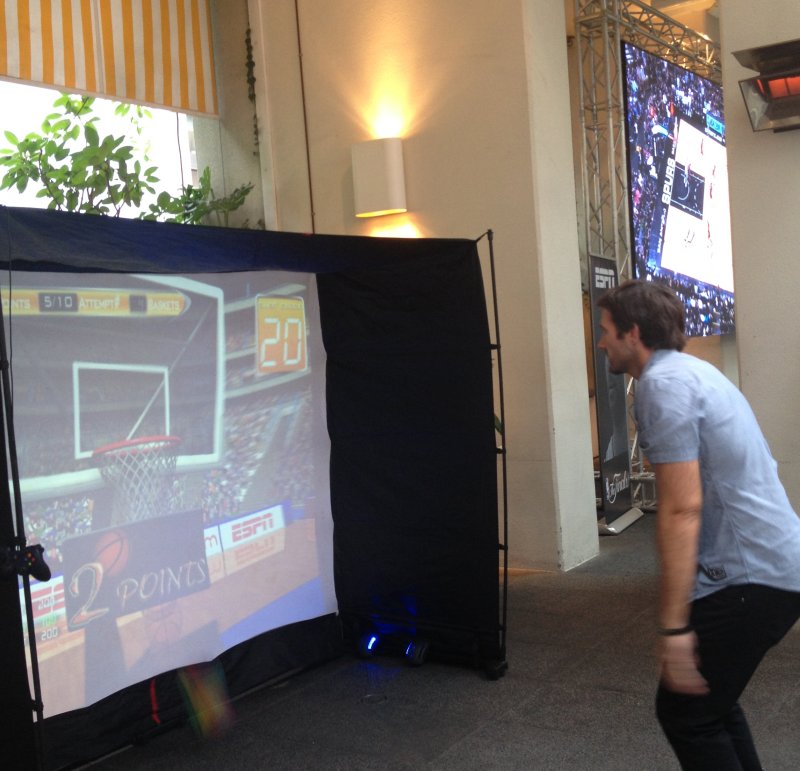 ESPN Australia contacted SportSim in the lead up to the NBA Finals in June. They were thrilled to discover our basketball simulator that has taken the event industry in Australia by storm. Like a lot of our clients, their first response on learning about our product was:
"Where were you a year ago when we were searching for something like this??"
Locked and loaded, SportSim arrived at Sydney's iconic 'The Ivy' for a function to celebrate Game 1 of The Finals between San Antonio Spurs and Miami Heat. The quick and nimble set up had us ready to go in not time, and the audience of media buyers, advertisers and leading sports broadcasters were lined up to shoot some hoops and test their skills.
With the big screen set up to show the main event, and the simulator set up alongside, the perfect entertainment environment was complete. All the punters were keen to take the opportunity to emulate the great work that Aussies Patty Mills and Aron Baynes were doing on court.
The functionality of the basketball game includes: free-throw challenges; shot clock pressure; extra points for "nothing but net"; "sharpshooter points" and in-game branding. For both the hosts and the spectators, there's plenty to like!
Engagement levels were through the roof with most attendees trying their hand. Three participants had a hot hand, with a perfect score of ten and plenty of bragging rights with their mates!
We can't wait to work with ESPN again, with our simulators offering basketball, NFL, ice hockey and baseball. We've got all the US sports covered… and many more!
Latest News
Keep up to date with SportSim
A Few Words from
Our Happy Customers
Engagement with the simulator was huge – everyone wanted a go. I was impressed with how it could fit in to the space and that we could incorporate our brand messaging on the screen. Paul, Foxtel
The simulator was exactly what we needed and worked a real treat! David, Closer Communications
Thank you so much for all of your support at our Kick Start Sales and Property Management Conference. It was fantastic having you there and adds an engaging element to the tradeshow. Amanda, Barry Plant