Batak in Geelong - Great Event, Great Cause, Great Fun!
SportSim News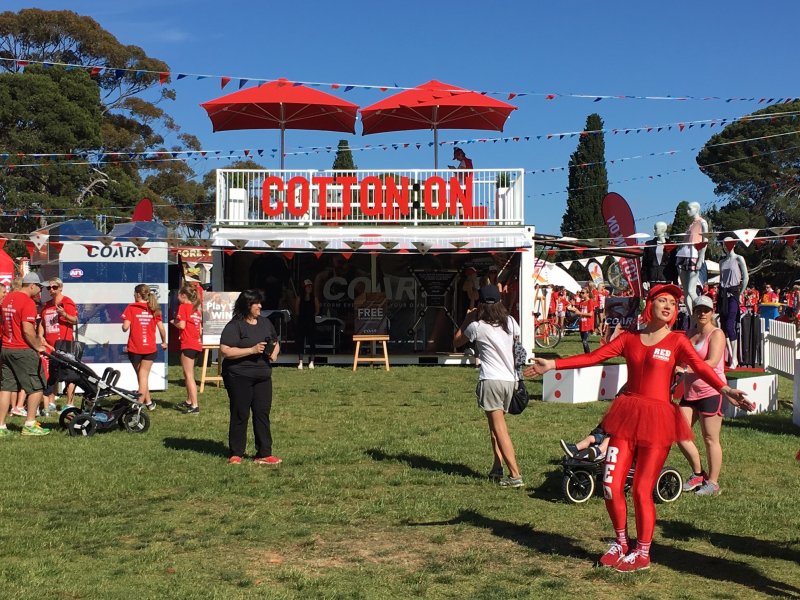 SportSim teamed up with Cotton On and experiential marketing agency 'Soundproof' to take the Batak machine on the road to Geelong, Victoria.
'Run Australia' is an initiative by the Cotton On Group, and is working towards improving the healthcare of young people in regional Australia.
Run Geelong was an excellent event, raising funds for the refurbishment of the Maternity Ward at University Hospital…this year a staggering $320,000 was achieved!
A big part of the event vibe is the unique festival atmosphere in the post-event 'village', created by a variety of entertainment options for young and old.
The Batak played a big part in the celebrations. It's accessible to people of all ages and abilities, male and female, little kids and big kids. As Kelly from Soundproof noted:
"I think the Batak machine worked really well and it was great to see a mix of ages and genders participating. It can be tough to find something that appeals to both adults and kids, but I think this activity nailed it!"
Latest News
Keep up to date with SportSim
A Few Words from
Our Happy Customers
Engagement with the simulator was huge – everyone wanted a go. I was impressed with how it could fit in to the space and that we could incorporate our brand messaging on the screen. Paul, Foxtel
The simulator was exactly what we needed and worked a real treat! David, Closer Communications
Thank you so much for all of your support at our Kick Start Sales and Property Management Conference. It was fantastic having you there and adds an engaging element to the tradeshow. Amanda, Barry Plant