Delivering for Australia Post
SportSim News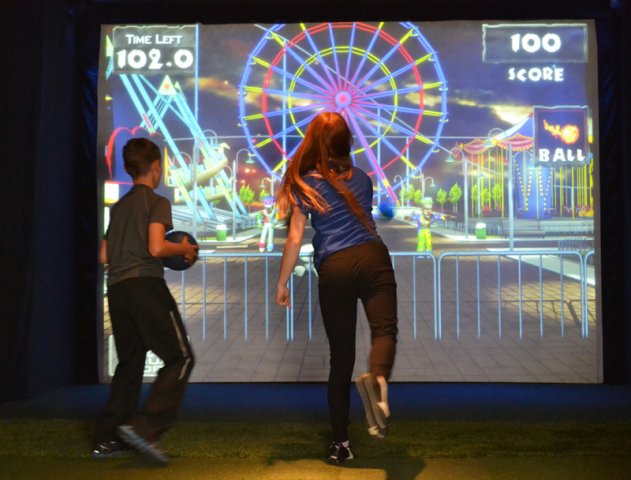 The nimble SportSim simulator has travelled to some interesting venues over the past 12 months, but in Feb of this year, we found ourselves entertaining in one of the biggest warehouse facilities in Australia.
We were invited to help support the Australia Post family day at their Sunshine parcel facility, a massive site covering 30,000 sqm, 1.5 times the playing surface at the MCG! The centre can process more than 23,000 parcels per hour and has more than 5,000 metres of platforms and walkways.
This day was a 'thank you' to all staff members, their family and friends and an opportunity to create a further sense of community amongst the employees. With a variety of entertainment options on-site for the younger kids, SportSim was asked to keep the bigger kids happy for a few hours.
The simulator is primarily used in sporting contexts to drive fan engagement or to activate sponsorships, but its versatility was clearly on display here. In addition to the 8 sports available on the system, there are 2 'games' that are perfectly suited for family fun days, school fetes, birthday parties or any event where you need to keep the kids occupied and out of mischief!
Zombie Dodgeball – For zombie hunters of all ages, fight back an invasion armed only with a dodgeball and your own arm. Choose from a variety of creepy worlds, like The Graveyard or The King's Lair, then knock down the undead hordes before they can escape, or else.
Carnival Games – Step right up and try your skill at your favourite fairground games. Knock down milk bottles, pop balloons or break plates, and watch the challenges get harder the further you go.
Get in touch today to discuss how SportSim can make your event one to remember!
Latest News
Keep up to date with SportSim
A Few Words from
Our Happy Customers
Engagement with the simulator was huge – everyone wanted a go. I was impressed with how it could fit in to the space and that we could incorporate our brand messaging on the screen. Paul, Foxtel
The simulator was exactly what we needed and worked a real treat! David, Closer Communications
Thank you so much for all of your support at our Kick Start Sales and Property Management Conference. It was fantastic having you there and adds an engaging element to the tradeshow. Amanda, Barry Plant