Geelong Cats fans enjoying game-day Footy simulator fun...
SportSim News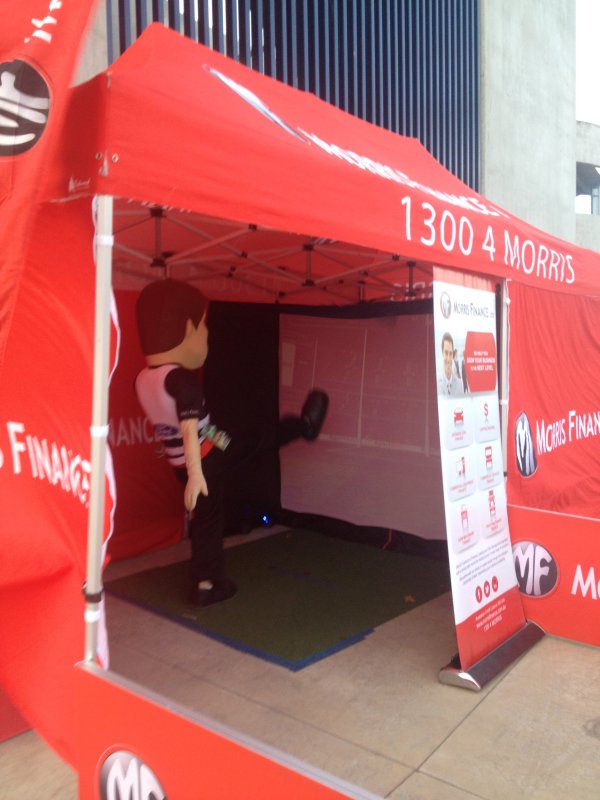 SportSim were delighted to be invited down to Simonds Stadium, by Morris Finance, to entertain the Geelong Cats' fans before their home AFL fixture against the Brisbane Lions. Morris Finance are a proud local partner of the Geelong Football Club, and it's their community-minded spirit that drives them to create unique game-day experiences for the passionate supporters.
The SportSim team welcomed a variety of visitors to the Morris marquee, some more coordinated than others! This guy (pictured above) had a huge boot on him…..taking care of the 50m kicks with ease…even in to a typically strong Geelong wind!
Luckily the home fans got just the result they wanted, from both SportSim and the Cats, so everybody went home happy.
The SportSim Australian Football simulator, available with in-game branding options, is perfect for game-day and sponsorship activations, fan or community engagement, end of season functions and much more. Contact us today for pricing.
Latest News
Keep up to date with SportSim
A Few Words from
Our Happy Customers
Engagement with the simulator was huge – everyone wanted a go. I was impressed with how it could fit in to the space and that we could incorporate our brand messaging on the screen. Paul, Foxtel
The simulator was exactly what we needed and worked a real treat! David, Closer Communications
Thank you so much for all of your support at our Kick Start Sales and Property Management Conference. It was fantastic having you there and adds an engaging element to the tradeshow. Amanda, Barry Plant