Grand Final Footy with Visy
SportSim News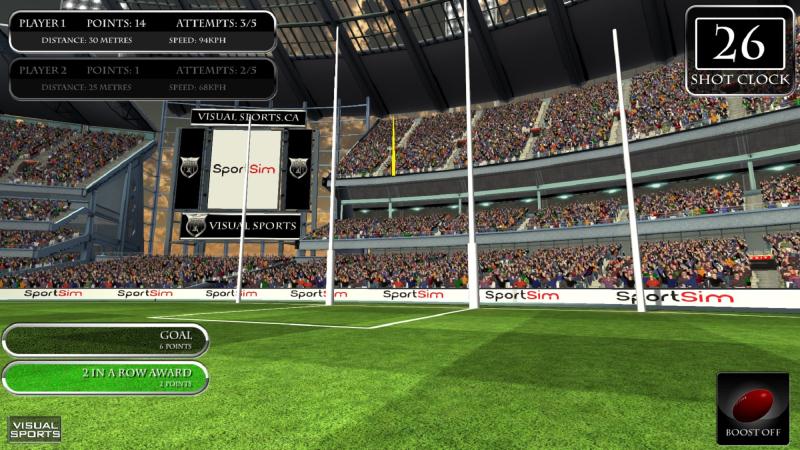 SportSim was delighted to be invited to take part again in the annual Visy Grand Final Brunch event at Cargo Hall in South Wharf, Melbourne.
With a variety of celebs and footy stars attending, along with Visy customers and partners, it was a cracking experience for all involved.. the perfect warm up for the `big one`.
As the punters rolled up for a punt, the white sherrin was treated with disdain... kicked left, right and (rarely) centre.
But the flavour of the day was `participation` and young and old, male and female, skilled and err... limited, all got involved.
The SportSim Australian Football simulator took a pounding, with plenty of traffic coming our way during the 3 hour event.
As event guests headed towards the MCG via ferry transfers, it was time for the hospitality crew to have a kick before packing up... a competitive bunch!
And so another successful outing for the footy simulator came to a close... what a season it`s been. Until Feb 2018 when we`ll be kicking off again!
Sportsim Australian football is available for hire all year round nationally.
Latest News
Keep up to date with SportSim
A Few Words from
Our Happy Customers
Engagement with the simulator was huge – everyone wanted a go. I was impressed with how it could fit in to the space and that we could incorporate our brand messaging on the screen. Paul, Foxtel
The simulator was exactly what we needed and worked a real treat! David, Closer Communications
Thank you so much for all of your support at our Kick Start Sales and Property Management Conference. It was fantastic having you there and adds an engaging element to the tradeshow. Amanda, Barry Plant