Kicking with the Kangeroos
SportSim News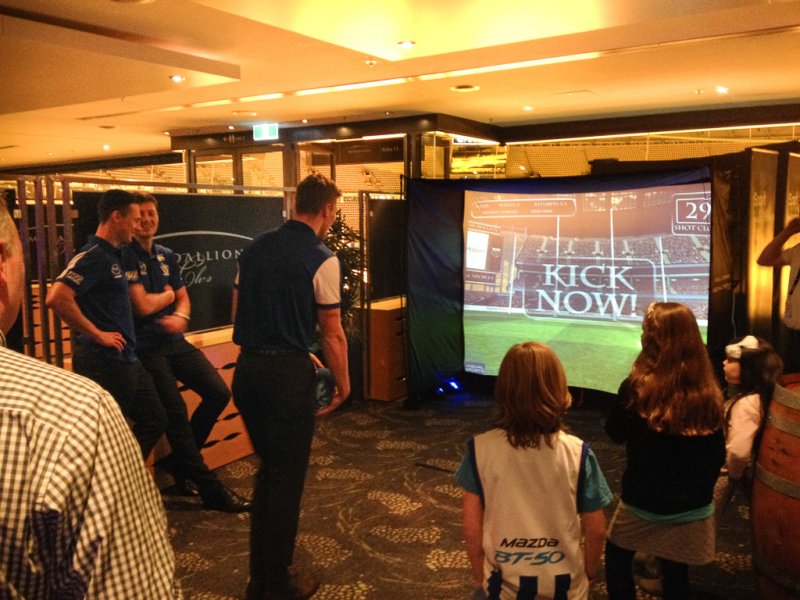 We had a great time last week with the members (young & old) of North Melbourne Football Club at Etihad Stadium. The Medallion Club Terrace was the setting for the NMFC membership function, and the SportSim Australian Football Simulator proved a big hit throughout the night.
It was a great night of entertainment with past & present player interviews, coach Brad Scott saying a few words, food, music and laughter.
The sport simulator got plenty of visitors during the evening, footy fans of all shapes, sizes and abilities. We even had a few NMFC stars of the future stepping up for a kick…..with a room full of lively members watching closely, some handled the pressure better than others!
For many of the NMFC members, they can now say that they have kicked a winning goal at Etihad Stadium. Nobody needs to know that it was on the simulator, and not on the field.
A great night and thanks to North Melbourne Football Club for inviting SportSim to get involved.
Latest News
Keep up to date with SportSim
A Few Words from
Our Happy Customers
Engagement with the simulator was huge – everyone wanted a go. I was impressed with how it could fit in to the space and that we could incorporate our brand messaging on the screen. Paul, Foxtel
The simulator was exactly what we needed and worked a real treat! David, Closer Communications
Thank you so much for all of your support at our Kick Start Sales and Property Management Conference. It was fantastic having you there and adds an engaging element to the tradeshow. Amanda, Barry Plant