Online Game - Retail
SportSim News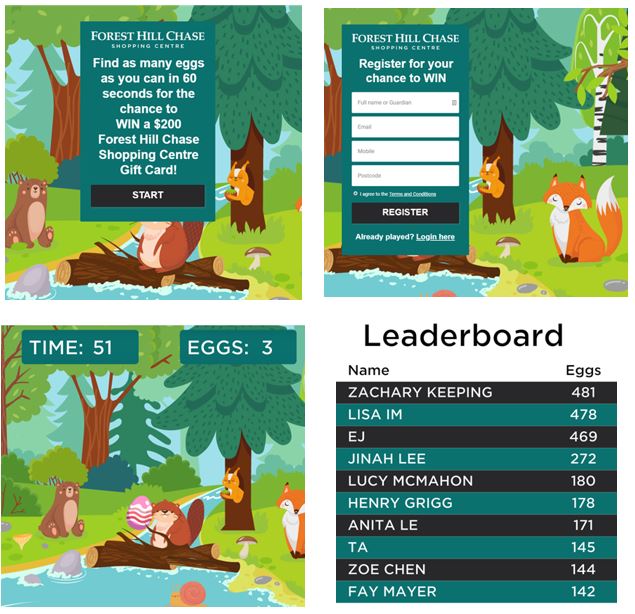 SportSim recently supported 2 Melbourne-based shopping centres during the Easter holiday period, to connect with their shopper communities, using a web-based game strategy.


The Challenge
Shopping Centres are usually a hive of activity, with large volumes of foot traffic coming through the doors, and multiple opportunities to engage consumers with physical experiences. However, given the current 'social distancing' environment, retailers and marketing professionals need to think differently.

With a calendar of onsite activations suspended, the brief to SportSim from the agency was to create a fun (Easter-themed) online game experience, relevant to all ages, that would grab attention, create sustained brand awareness and engagement, and amplify the reach and voice of the shopping centres during the Easter break. The experience needed to communicate, connect, grab data, create healthy competition and fun for a broad demographic.


The Solution
On a very tight turnaround time, SportSim built and deployed a virtual 'Easter Egg Hunt' game, that required players to collect as many virtual eggs as possible in the time limit. It was a simple game concept (reducing barriers to participation), that proved engaging and addictive to all segments of the shopper community, achieving great impact in a short campaign period.
In return for providing some basic data, players were given the opportunity to win $200 worth of Centre vouchers, and many took on the challenge!


The Results
Over 7 days of action, across the 2 Centres, in excess of 1,000 unique users played the game, many playing multiple times in succession, or returning for repeat plays over different days. The total number of games played exceeded 5,000.

For ideas on how a web game or online gaming strategy can work for your brand, get in touch today!
Latest News
Keep up to date with SportSim
A Few Words from
Our Happy Customers
Engagement with the simulator was huge – everyone wanted a go. I was impressed with how it could fit in to the space and that we could incorporate our brand messaging on the screen. Paul, Foxtel
The simulator was exactly what we needed and worked a real treat! David, Closer Communications
Thank you so much for all of your support at our Kick Start Sales and Property Management Conference. It was fantastic having you there and adds an engaging element to the tradeshow. Amanda, Barry Plant