SportSim Australian Football Simulator
SportSim News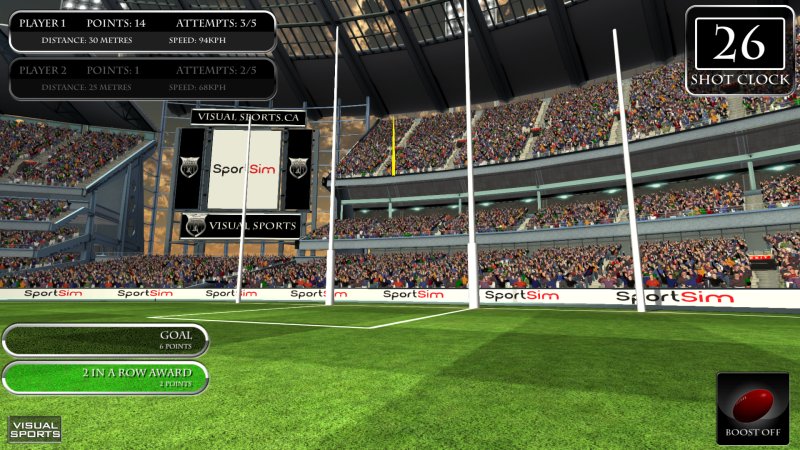 After much anticipation, SportSim Australian Football got its first public outing recently at the newly named Ikon Park.
It's been a long wait to unveil Australia's first truly portable Aussie Rules simulator experience, and with some further modifications to the game in the pipeline, it's going to be all systems go in time for the 2015 AFL season. In fact, we're already getting enquiries for Footy Finals functions in September…word travels fast.
With in-game branding options, and the flexibility for indoor and outdoor activations, SportSim is currently in discussions with clubs, venues and sponsors to leverage maximum value from the most exciting interactive sport product to hit Melbourne in 2015.
The addition of 'SportSim Australian Football' brings the total number of SportSim sports (available for hire) up to 8. It's interactive fun for all ages and all abilities, whatever the occasion or the venue.
Click here to get in touch and make sure you don't miss out on all the fun!
Latest News
Keep up to date with SportSim
A Few Words from
Our Happy Customers
Engagement with the simulator was huge – everyone wanted a go. I was impressed with how it could fit in to the space and that we could incorporate our brand messaging on the screen. Paul, Foxtel
The simulator was exactly what we needed and worked a real treat! David, Closer Communications
Thank you so much for all of your support at our Kick Start Sales and Property Management Conference. It was fantastic having you there and adds an engaging element to the tradeshow. Amanda, Barry Plant