SportSim Rugby - West is Best
SportSim News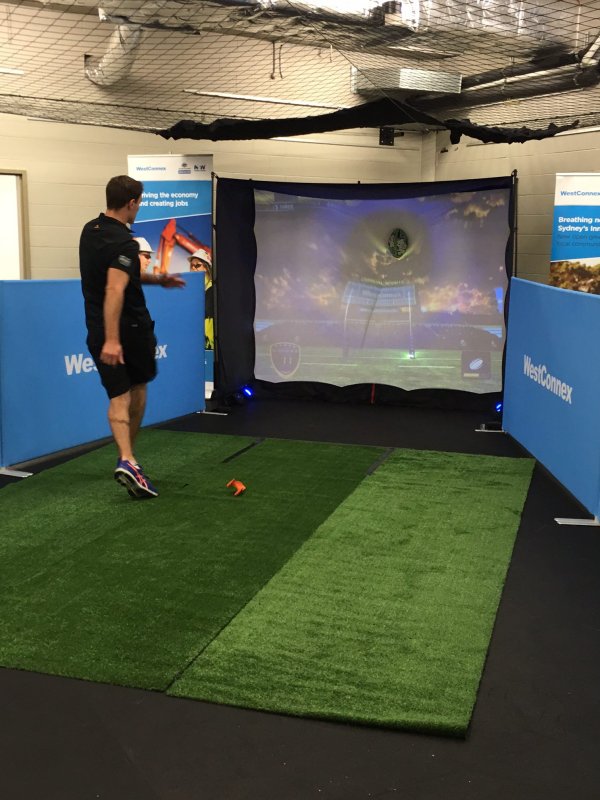 SportSim had the privilege of being asked to support WestConnex at a recent Community Day for NRL team the Wests Tigers. In the bowels of iconic ANZ Stadium, eager young Tigers fans had a chance to meet their heroes at an open family day.
Incorporating WestConnex branding within the SportSim rugby simulator software enabled increased exposure for the strong commercial and community partnership. Throughout an action-packed day, more than 500 fans got to meet their NRL heroes, had autographs signed and learned about the inner workings of 'game day' by visiting the players change rooms, locker room…as well as the warm up and warm down areas of the stadium.
In just 90 minutes over 100 supporters also tried their hand (or feet!) on the SportSim rugby kicking simulator. Given 3 attempts each, plucky goal kickers had to deal with the pressure of a lively crowd to slot as many as they could between the sticks.
This was a great opportunity for one of the major sponsors of the Wests Tigers, WestConnex, to meet their customers face-to-face (and answer questions on key infrastructure projects) in a fun, engaging and relaxed environment.
Nothing engages a community like sport. Talk to SportSim today about how we can help connect you with your community.
Latest News
Keep up to date with SportSim
A Few Words from
Our Happy Customers
Engagement with the simulator was huge – everyone wanted a go. I was impressed with how it could fit in to the space and that we could incorporate our brand messaging on the screen. Paul, Foxtel
The simulator was exactly what we needed and worked a real treat! David, Closer Communications
Thank you so much for all of your support at our Kick Start Sales and Property Management Conference. It was fantastic having you there and adds an engaging element to the tradeshow. Amanda, Barry Plant