SportSim`s Batak and Tag Heuer - The Ultimate Active Activation
SportSim News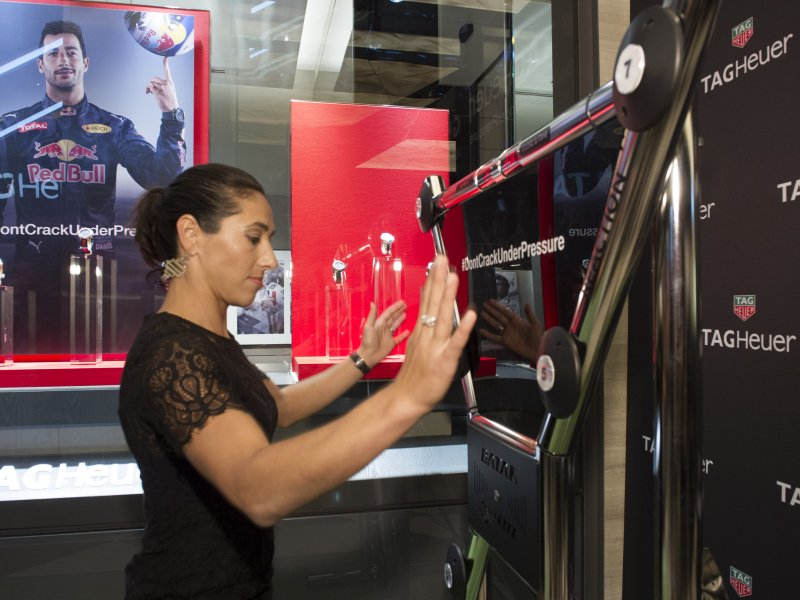 Tag Heuer is one of the world's largest luxury watch brands, synonymous with superior quality and performance. Tag's latest flagship retail store opened recently at the new St Collins Lane precinct in Melbourne. Aligned with their #dontcrackunderpressure campaign, the Tag Heuer team wanted something simple to implement, yet interactive and impactful, as an activation solution to complement their VIP opening event.
In the company of high performance athletes Lydia Lassila and Scott Pendlebury, SportSim provided the branded Batak machine to run a #dontcrackunderpressure 'reaction test' for anyone game enough to have a go. Lydia bravely kicked things off, setting a challenging benchmark score of 37 in the '30 second accumulator' challenge. Many followed in her footsteps to try and claim Tag's generous competition prize. Eventually a superb score of 47 took the prize...an amazing effort (given that the champagne had been flowing for most of the night!).
The Batak machine tests reaction speed and peripheral vision, has a very light footprint, and can be branded in a number of different ways to increase your event and brand exposure. Contact SportSim today to discuss how Batak can complement your next event. It's the ultimate active activation.
Latest News
Keep up to date with SportSim
A Few Words from
Our Happy Customers
Engagement with the simulator was huge – everyone wanted a go. I was impressed with how it could fit in to the space and that we could incorporate our brand messaging on the screen. Paul, Foxtel
The simulator was exactly what we needed and worked a real treat! David, Closer Communications
Thank you so much for all of your support at our Kick Start Sales and Property Management Conference. It was fantastic having you there and adds an engaging element to the tradeshow. Amanda, Barry Plant