Super Bowl Corporate Entertainment
SportSim News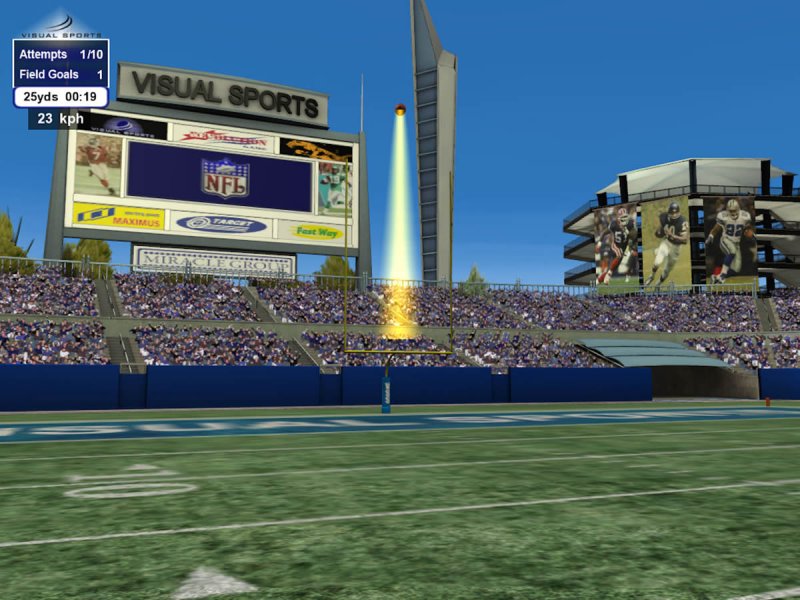 On 3 February 2014, SportSim was delighted to join CM Ultimate Events for their 'Ultimate Aussie Bowl Party'. The day was an incredible experience for all sports fans, featuring star guest Australian NFL punters Ben Graham & Mat McBriar, and hosted by AFL commentator David King.
In the quest to entertain and engage, CM Ultimate Events recognised the important role that SportSim's NFL simulator would play on the day. Stars of the game and every day punters tested their skills from all sorts of angles, in all weather conditions, and in a range of settings.
The SportSim simulator received consistent traffic throughout the day, before, during and after the big game – even challenging the world-famous half-time entertainment for a share of attention! SportSim ran a field goal competition to keep engagement high and a regular flow of traffic during the day.
The event was a massive success with over 300 Super Bowl fanatics passing through the doors. Great food and entertainment was complemented by the SportSim simulator – the icing on the cake!
The guests all left with great memories of the game, the experience, and their shot at glory on the simulator. Everyone had the chance to be in the spotlight for a few minutes, with the chance to kick a winning field goal in the final minutes of their very own Superbowl!
CM were particularly satisfied with this modern idea for corporate events…
"It was great to have an interactive simulator at our Ultimate Aussie Bowl. The SportSim guys were amazing in the way they interacted with guests and set up the mobile facility in a quick manner. I would recommend anyone looking for a simulator to contact the guys at SportsSim as it truly adds to the whole days experience"
Chris Speldewinde
CM Ultimate Events
Latest News
Keep up to date with SportSim
A Few Words from
Our Happy Customers
Engagement with the simulator was huge – everyone wanted a go. I was impressed with how it could fit in to the space and that we could incorporate our brand messaging on the screen. Paul, Foxtel
The simulator was exactly what we needed and worked a real treat! David, Closer Communications
Thank you so much for all of your support at our Kick Start Sales and Property Management Conference. It was fantastic having you there and adds an engaging element to the tradeshow. Amanda, Barry Plant