World Cup @ Crown Melbourne
SportSim News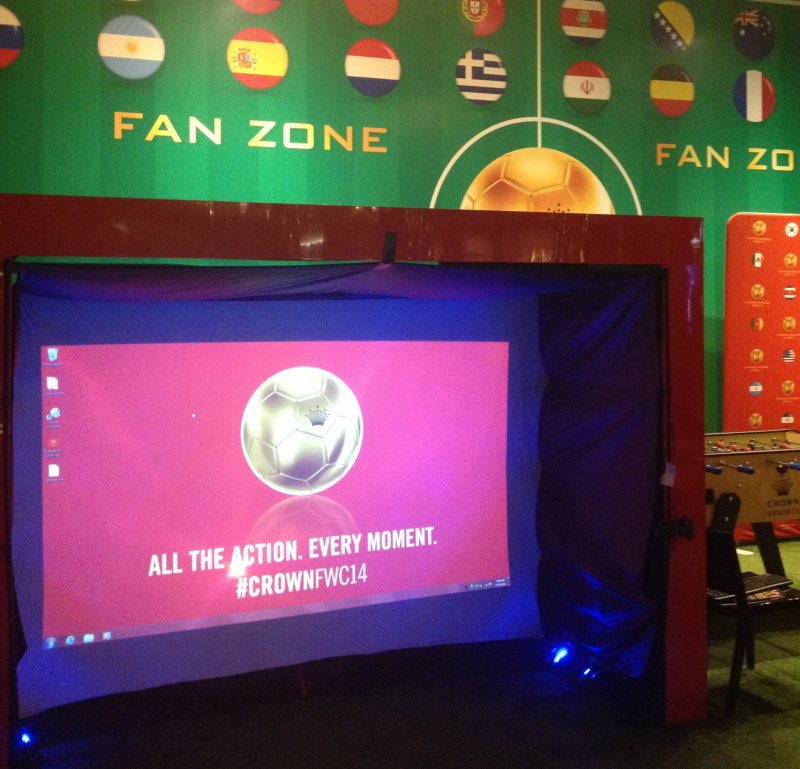 What a massive June & July SportSim has had with Crown Melbourne!
With the world's biggest sporting spectacle this year being the FIFA World Cup, Crown Casino and Resort in Melbourne themed the Lumia bar as the ultimate Budweiser fan zone.
The fan zone was a huge hit with punters, featuring over 20 foosball tables, every game of the World Cup on plenty of big screens, and of course, the jewel in the crown (pardon the pun!), our SportSim simulator allowing the huge number of attendees to replicate the scoring heroics of Messi & Co.
Our soccer simulators are set up so that players can test their skills in a nail-biting penalty shootout, or try and bend one around the wall from a free kick. You can simulate stadium conditions, or why not try your luck on the beach with an alien in goals! So much functionality for all ages, and the ability to adapt the game for all abilities, testing the confident clubman or giving the kids a chance to shoot for glory.
With all World Cup games being played overnight Australian time, Crown dedicated a large amount of floor space to keep patrons entertained into the wee hours of the morning…some people watching the games and scoring their own goals from Crown and then going straight to the office!
SportSim are proud to have been associated with the leading entertainment provider that is Crown and to have played a part in entertaining the thousands of sports fans who where part of the Crown experience over 5 weeks.
Our goalkeeper needed a good rest after the gig, but he's back to full fitness now and ready for the next challenge!
Latest News
Keep up to date with SportSim
A Few Words from
Our Happy Customers
Engagement with the simulator was huge – everyone wanted a go. I was impressed with how it could fit in to the space and that we could incorporate our brand messaging on the screen. Paul, Foxtel
The simulator was exactly what we needed and worked a real treat! David, Closer Communications
Thank you so much for all of your support at our Kick Start Sales and Property Management Conference. It was fantastic having you there and adds an engaging element to the tradeshow. Amanda, Barry Plant