SportSim React
Cutomisable & Competitive
SPORTSIM REACT - Utilising the latest touchscreen technology, fully customisable, in-built data capture and leaderboard features.

Need an interactive reaction game at your next event?

A test of speed and agility, players interact with multiple static or dynamic targets to get the best score they can in the time limit.

Multiple formats and game modes are available, and game play and branding can be customised per client requirements.
SportSim React is a fast paced gaming experience that will test your reaction speed as you attempt to hit as many targets as you can in the time limit.
Keep your eyes on the prize as targets pop up on screen.
SportSim React is fully customisable for your brand activation, conference space, tradeshow booth, product launch, corporate event or marketing campaign. Include your basic brand logo and messaging, or make the game your own with changes to game flow, functionality and colour schemes...just let us know what you need!
SportSim React is available internationally (outside Australia) under a license arrangement - please contact us for details.
The game is played using large format commercial grade touchscreens, making it visually impactful - different size screens are available to suit your event space.
Like all SportSim Touchscreen Games, the game incorporates data capture capabilities and an in-built leaderboard for running competitions.
Available now - get in touch today!
See SportSim React in action here:
Enquire Now
Reaction Walls
Interactive, Engaging, Brandable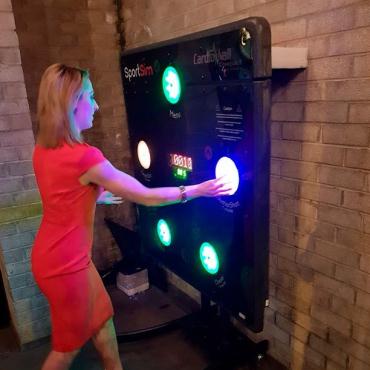 CardioWall
CARDIOWALL - High intensity, competitive fun for all ages and abilities with bespoke branding options.Reaction wall game...
CardioWall
A Few Words from
Our Happy Customers
Engagement with the simulator was huge – everyone wanted a go. I was impressed with how it could fit in to the space and that we could incorporate our brand messaging on the screen. Paul, Foxtel
The simulator was exactly what we needed and worked a real treat! David, Closer Communications
Thank you so much for all of your support at our Kick Start Sales and Property Management Conference. It was fantastic having you there and adds an engaging element to the tradeshow. Amanda, Barry Plant