SportSim React
Cutomisable & Competitive
SPORTSIM REACT - Utilising the latest touchscreen technology, fully customisable, in-built data capture and leaderboard features.
SportSim now has in-house development capabilities, allowing for custom games to be developed using commercial-grade high spec touchscreens.
SportSim has partnered with a number of marketing agencies and corporate clients to deliver bespoke digital solutions, bringing brands to life with fully interactive game solutions.
Showcase the brand, capture data, run competitions....fully customise the user experience to meet your needs!
SportSim React is the core touchscreen product, with other exciting new games in development.
Use SportSim React at your next event if you want to:
Create an interactive point of difference
Incorporate healthy competition to align with your brand values
Capture event data
Draw crowds and create memorable moments for your audience
Contact SportSim today for availability and pricing!
See SportSim React in action here:
Enquire Now
Reaction Walls
Interactive, Engaging, Brandable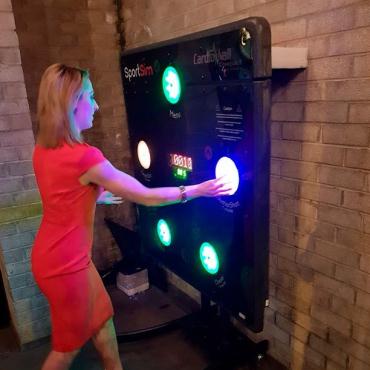 CardioWall
CARDIOWALL - High intensity, competitive fun for all ages and abilities with bespoke branding options.Reaction wall game...
CardioWall
A Few Words from
Our Happy Customers
Engagement with the simulator was huge – everyone wanted a go. I was impressed with how it could fit in to the space and that we could incorporate our brand messaging on the screen. Paul, Foxtel
The simulator was exactly what we needed and worked a real treat! David, Closer Communications
Thank you so much for all of your support at our Kick Start Sales and Property Management Conference. It was fantastic having you there and adds an engaging element to the tradeshow. Amanda, Barry Plant